Tomoe Hyuuga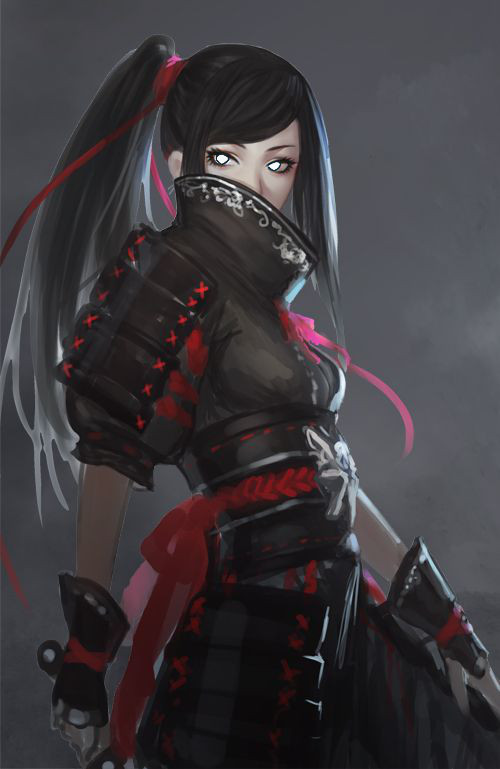 Tomoe is much unlike the typical feel of a Hyuuga, she is much more hot headed when it comes to combat and typically condescending when dealing with those around her. She is a Jounin of the village and one of the most prominent of the sensory shinobi that one may find within Konohagakure who has been found since her time as a Chunin supporting high ranking Jounin in the field.  It is a rare day to actually find Tomoe within the village, for when she does return she locks herself up in the Hyuuga compound sleeping off weeks of travel and stress.
Recently she has been found to be leading missions in and around Fire country and has taken a liking to a few select Genin that she has frequently been picking to go on missions. This leads many to suspect she may end up staying around the village much more than she had before, perhaps she sees something in these kids, or perhaps she's getting tired and preparing to retire to a life of training the younger generations.
History:

Tomoe started off as an average student of the art of Jyuuken, not considered to be holding up to the full expectations of a member of the main branch Hyuuga. As a young girl she tended to stray away from the compound to spend her time with a particular Nara boy by the name of Akihiro (the most stereotypical of all the Nara intellectuals) by the lakeside and listen to him lecture her on all he had learned from his father on that day. They would tend to be there from mid afternoon to dusk before hurrying back home before receiving an intricate lecture on why they should not be out so late at night on a school night, or how they shirked from their responsibilities of the day (they were both known to do this). However they did this almost every day for the entirety of their years as academy students, and they did so as the number one and number two students in their class. This is where the two were split up and put in to two separate Genin squads, First Squad for Akihiro and Third Squad for Tomoe, thus effectively removing the two from their everyday contact for the next few years.

While in Third Squad she began receiving special training from her clan head in improving her particular gentle fist. Every morning regardless of whatever missions she may have been on the previous night or what injury she had sustained, she was forced into a rigorous training routine that involved her holding specific positions and refining her movements to that of a surgical level of precision. This, of course, made her resent the clan head and the strict rules and regulations placed over the entirety of the clan. This resentment ironically sent her into diving headfirst into the regular training sessions with extreme vigor, bringing her to advance much further than any of her relatives of the equivalent rank at the time. Due to this, while on missions, she became the cold calculated and efficient combatant who disabled her foes with extreme prejudice. She would not tolerate any amount of indecision on the part of her team, and would take the lead on any operation she was apart of, relying heavily on the years of listening to Akihiro's strategy guides, without waiting for a group decision on the matter. Those who either disagreed or disrupted her plans would become the target of her aggression, chewing off the genin or in some cases chunin or jounin's head. This led to her being nicknamed the "Praying Mantis," and giving her a reputation of being quite a difficult case to deal with.

When it came time for the chunin exams, she had her team going through vigorous exercises every morning with her, training them up to what she saw as the 'appropriate level' for a chunin to be at. They, as a team (or with Tomoe literally carrying them through), managed to completely ace all physical practices of the exams. The written exam was in fact their most dangerous opponent the entire time. When we say them, we really mean for Tomoe, she may have spent much time with the young Nara boy, however she was particularly terrible at anything that made her think outside of combat. Granted, her and her team made it through all of the events that transpired in what could only be described as the last of the normal chunin exams within the village. As for the next few years we see everything from rather un-original terrorist attacks to the cancellations of the exams entirely.

As a chunin, her squad was disbanded and reorganized with the remainder of the teams, bringing her back together with Akihiro who had also passed the exams with flying colors and Arima Hirano, someone who both of them had known during their years in the academy but never spoke to. They all became an outstanding team by the end of the fifteenth C-ranked mission, when they were granted their first B-A rank with a rather unknown shinobi of the time, Kyuzo Tadakuro, just recently promoted to Jounin. They were tasked to travel deep within earth country to find a rogue shinobi from Konohagakure who was attempting to defect to Iwagakure and bring him back alive. The mission went almost perfectly, with the only "hiccup" coming from the drunken Kyuzo after finishing most of a barrel before disposing of several of the Iwa shinobi without putting forth too much effort.
This successful mission solidified the team (aside from Kyuzo) as a permanent fixture in the arsenal of Konohagakure. Over time, while working with these two, Tomoe became much more rambunctious, a regular trickster and joker as she relaxed around those who became the closest to her.

Upon reaching the rank of Jounin, all three would be sent out for months on end, for their regular completion of B-A rank missions at the rank of chunin brought them to being put on countless B-S+ rank missions which ranged from reconnaissance to eliminations of foreign officials or shinobi. Rarely would they be seen within the village due to this, and if they were, more than likely it was only for a few moments to restock, report, and return back into the field. The three R's of what became known as Tiger Squad, the elite and respected squad of Konohagakure. When there is a mission of utmost importance in the village, the Hokage typically pointed it to the "Tigers of the Leaf."
Recent Events:

[Place Holder: More to come as the Bio is fully fleshed out]
Hyuuga Clan Information:

[History and Information]
The Hyuuga clan is one of the oldest and most powerful clans in Konohagakure. All members born into this family possess the Byakugan, a kekkei genkai that gives them extended fields of vision and the ability to see the chakra circulatory system. The clan is separated into two parts, the main house and the branch house, a system that protects the secrets of the Byakugan from outsiders. The main house runs the family while the branch house protects it. The members of the branch house are branded with a cursed seal upon the next heir/heiress of the main house's third birthday. This seal gives the main house members absolute control over the branch members, because they can destroy the branch members' minds with a simple hand gesture, or cause them great pain to punish them. This seal also makes sure the secret of the Hyuuga's Byakugan is safe, because it seals the Byakugan after the wearer of the seal dies. Because they are essentially servants, simply because of their birth order or heritage, some branch house members are hostile to those of the main house.

______________________________________________________________

[A Separated Family]
The creator has two choices upon creation, they can either be in the branch house or the main house, the branch house act as the warriors and protect the family as the main house runs the family.

[Branch House]
The branch house act as the protectors of the clan and gain bonuses according to there position due to there training. Always the meat shields of the clan designed to train their bodies and endurance over their minds.
Passives: +10 HP, +3 DR vs HP Dmg

[Main House]
The main house are the nobles of the clan and run it accordingly, there training focuses more on precision and economical use of chakra. It is here that many of the Jyuuken jutsu were invented.
Passives: +10 CP, -3 to CP Costs (Min 1)

______________________________________________________________

[Gentle Fist]
The Hyuuga are masters of their specific style of Taijutsu, allowing them to have constant training and work, allowing their natural speed and agility to skyrocket in level and ability itself
Universal: Hyuuga have the option to declare any Taijutsu they use a Jyuuken Jutsu. This must be done before the attack roll is made, and can only be done while the Byakugan is active (see below). Jyuuken Jutsu deal full damage to both HP and CP, and pierce 4 DR (this includes CP DR).
Genin: +1 to Dexterity/Wisdom Rolls
Chuunin: +2 to Dexterity/Wisdom Rolls
Jounin: +3 to Dexterity/Wisdom Rolls

______________________________________________________________

[Byakugan]
Cost: 3 CP to Activate, +2 CP to Maintain
Drawback: Due to their 360-degree vision, it is impossible to break eye contact with their enemy. This means that Genjutsu are easier to hit the Hyuuga with, despite the fact that they can see the chakra being used. When an enemy attempts to use a Genjutsu on a Hyuuga with the Byakugan activated, they get a +2 to their attack roll. This does not, however, add to the Genjutsu Break DC.
Universal: Automatically passes all Spot rolls*. The user may view the HP/CP pools of participants in a fight (and while the numerical values are not IC knowledge, how wounded/exhausted they are is). While the Byakugan is activated, Jyuuken Jutsu may be used.
Genin: +2 to attack/defense rolls, 19-20 crit range.
Chuunin: +2 to attack/defense rolls, 18/20 crit range.
Jonin: +3 attack/defense rolls, 17-20 crit range.

*If Auto-spot is Disabled, Hyuuga gain additions to spot rolls Depending on rank. Genin) +20, Chuunin) +30, Jounin) +40
______________________________________________________________

[Jutsu]

Note: all jutsu listed below are considered Jyuuken Jutsu, and may not be used unless the user has activated the Byakugan.

Spoiler:
   [D Rank]

   Chakra Repel
   Jutsu Type: Taijutsu
   Rank: D
   Chakra Cost: 3
   RP Description: Using their ability to exert chakra from any part of their body, they quickly do so and form a slight barrier above their skin to intercept an attack
   PVP Effect: Blocks an attack with a +1 to the roll. Alternatively; may be used to grant the user 3 DR vs. the triggering attack.
   Teaching/Learning: All Hyuuga start with this

   [C Rank]

   Eight Trigrams Empty Palm
   Jutsu Type: Taijutsu
   Rank: C
   Chakra Cost: 4
   RP Description: Using their control and sight the Hyuuga can strike out at opponents out of arms reach with a short bursts of chakra.
   PvP Effect: Deals Taijutsu Damage +1d4. This jutsu is considered a ranged attack.
   Teaching/Learning: Gate System - C Rank

   Projectile Tenketsu Strike
   Jutsu Type: Taijutsu
   Rank: C
   Chakra Cost: 4
   RP Description: Focusing a bit of chakra the Hyuuga are able to throw a chakra imbued projectile at a tenketsu.
   PVP Effect: Deals 3 Senbon/Kunai/Shurriken Damage +1d4.
   Note: Costs 3 Senbon/Kunai/Shurriken

   Jyuuken Defense
   Jutsu Type: Taijutsu
   Rank: C
   Cp: 5
   RP Description: Used in defense, the Hyuuga counter punches or kicks by hitting a chakra point on the arm or leg of the attacker.
   PvP: Used to block an attack. When used to block a melee-ranged attack, the user deals 1d6 damage.
   Teaching/Learning: Gate System - C Rank

   Eight Trigrams Sixteen Palms
   Jutsu Type: Taijutsu/Ninjutsu
   Rank: C
   Chakra Cost: 6
   RP Description: This move takes some set up, but has devestating effects if pulled off in succession. The first few seconds the user focuses and tries to get the user's chakra coil and tenketsu in view of their Eight Trigrams stance, and then they unleash a barrage of 16 jyuuken strikes to the chakra coil network.
   PVP Effect: Deals Taijutsu Damage +1d8+2.
   Trigrams Note: Must Take 1 Round to 'Charge' The technique.
   Teaching/Learning: Gate System - C Rank



   Aimed Jyuuken Strike
   Jutsu Type: Taijutsu
   Rank: B
   Chakra Cost: 6
   Description: The Hyuuga aims their entire palm at a major Chakra point, usually aimed around the chest of an opponent.
   PvP: Deals Taijtusu Damage +1d6+1. This jutsu has a +2 to the attack roll.
   Teaching/Learning: Gate System - B Rank

   Eight Trigram Palms Heavenly Spin
   Jutsu Type: Ninjutsu/Taijutsu
   Rank: B
   Chakra Cost: 8
   RP Description: By rotating and exerting chakra evenly through the body, the user is able to fend off attacks from almost any angle
   PVP Effect: Dex or Wis to Block +3, On a Fail the Hyuuga Gains +3 DR vs HP Dmg, on a Success the Opponent takes 1d4+1 damage.
   Teaching/Learning: Gate System - B Rank

   Eight Trigrams Thirty Two Palms
   Jutsu Type: Taijutsu/Ninjutsu
   Rank: B
   Chakra Cost: 8
   RP Description: This move takes some set up, but has devestating effects if pulled off in succession. The first few seconds the user focuses and tries to get the user's chakra coil and tenketsu in view of their Eight Trigrams stance, and then they unleash a barrage of 32 jyuuken strikes to the chakra coil network.
   PVP Effect: Deals Taijtusu Damage +3d4+2 Damage to CP/HP. On a hit, the user loses the ability to spend CP for 2 rounds. (this includes maintenance costs). May be used with DEX or WIS; user's choice.
   Trigrams Note: Takes 1 Round to 'Charge'.
   Teaching/Learning: Gate System - B Rank

   [A Rank]

   Eight Trigrams Mountain Crusher
   Jutsu Type: Taijutsu
   Rank: A
   Chakra Cost: 9
   RP Description: Another focused variation of Eight Trigrams Palms Heavenly Spin, the Eight Trigrams Mountain Crusher sends a wave of focused chakra directly towards an opponent, more than enough to shatter rock
   PvP Effect: Deals Taijtusu Damage +1d8+1d4+1 damage. This jutsu is considered to be a ranged attack.
   Teaching/Learning: Gate System - A Rank

   Eight Trigrams Palms Great Heavenly Spin
   Jutsu Type: Ninjutsu
   Rank: A
   Chakra Cost: 13
   RP Description: By rotating and exerting chakra evenly through the body, the user is able to fend off attacks from almost any angle. The rotation is faster and the chakra more evenly dispersed as more chakra is exerted than Heavenly Spin
   PVP Effect: Dex or Wis to Block +4, On a Fail the Hyuuga Gains +5 DR vs HP Dmg, on a Success the Opponent takes 1d6+1 damage.
   Teaching/Learning: Gate System - A Rank

   Eight Trigrams Sixty-Four Palms
   Jutsu Type: Ninjutsu/Taijutsu
   Rank: A
   Chakra Cost: 12
   RP Description: The user takes two rounds to do this move. In the first, they take a low stance and study their opponent carefully. The second, they manage to hit the opponent Sixty-Four times, each strike hits a chakra point. This jutsu closes 64 of the 361 tenketsu of the opponent completely. The last of the sixty-four strikes appears to be a blow with the full, open hand, rather than the fingertips of the index and middle fingers
   PVP Effect: Deals Taijtusu Damage +5d4+2 damage. On a hit, the target cannot spend CP for 2 rounds. (this includes maintainence costs). May be used with WIS or DEX; user's choice.
   Trigrams Note: Takes 1 Round to 'Charge'.
   Teaching/Learning: Gate System - A Rank

   [S Rank]

   Eight Trigrams One Hundred Twenty-Eight Palms
   Jutsu Type: Ninjutsu/Taijutsu
   Rank: S
   Chakra Cost: 20
   RP Description: The user takes two rounds to do this move. The first few seconds involve taking a low and ready stance, though different from Eight Trigrams Sixty-Four Palms in that the angle of the body is different, more to the side to allow for more 'sharp' attacks. The second, they manage to hit the opponent One Hundred and Twenty-Eight Times, each strike hits a chakra point twice. The attacks in this technique are clearly executed at a much higher speed than the Sixty-Four Palms, making it even more dangerous. This jutsu closes 128 of the 361 tenketsu of the opponent completely
   PVP Effect: Deals Taijtusu Damage +2d6+4d4 damage. On a hit, the target cannot spend CP for 3 rounds (this includes maintenance costs). May be used with DEX or WIS; user's choice.
   Trigrams Note: Takes 1 Round to 'Charge'.
   Teaching/Learning: Gate System - S rank

   Eight Trigrams Three-Hundred-Sixty-One Palms
   Jutsu Type: Ninjutsu/Taijutsu
   Rank: S Rank
   Chakra Cost: 25
   RP Description: The user takes two rounds to do this move. In the first moments they adopt a relaxed Gentle Fist stance,one of the first ever taught to Jyuuken students. The second, they manage to hit the opponent Three Hundred and Sixty-One times, every strike hits a chakra point. The attacks in this technique are extremely fast, and once the user starts, target cannot get away. This is the strongest of the Eight Trigrams moves, as it shuts down all 361 tenketsu points.
   PVP Effect: Deals Taijtusu Damage +1d10+5d4+5 damage. On a hit, the target cannot spend CP for 3 rounds (this includes maintenance costs). May be used with DEX or WIS; user's choice.
   Trigrams Note: Takes 1 Round to 'Charge'.
   Special Note: Main house only (Or Special DM Permission)
   Teaching/Learning: Gate System – S+Rank - DM Permission


______________________________________________________________

[Taijutsu Mastery]
(100 Tokens, Legendary Bloodline)

The Hyuuga has mastered the art of Taijutsu and there bodys are at the peak of physical fitness, causing their Taijutsu attacks to be devastatingly powerful, capable of slamming opponents through walls with their so called 'Gentle Fist' now that they have mastered it to such a scale.
Universal: The Hyuuga's taijutsu attacks deal Large Weapon damage of their appropriate rank, without any applicable weapon penalties.
Genin: +1d6 Taijutsu Damage Rolls
Chunin: +1d8 Taijutsu Damage Rolls
Jounin: +1d10 Taijutsu Damage Rolls



Posts

: 131


Join date

: 2015-01-11





Similar topics
---
Permissions in this forum:
You
cannot
reply to topics in this forum