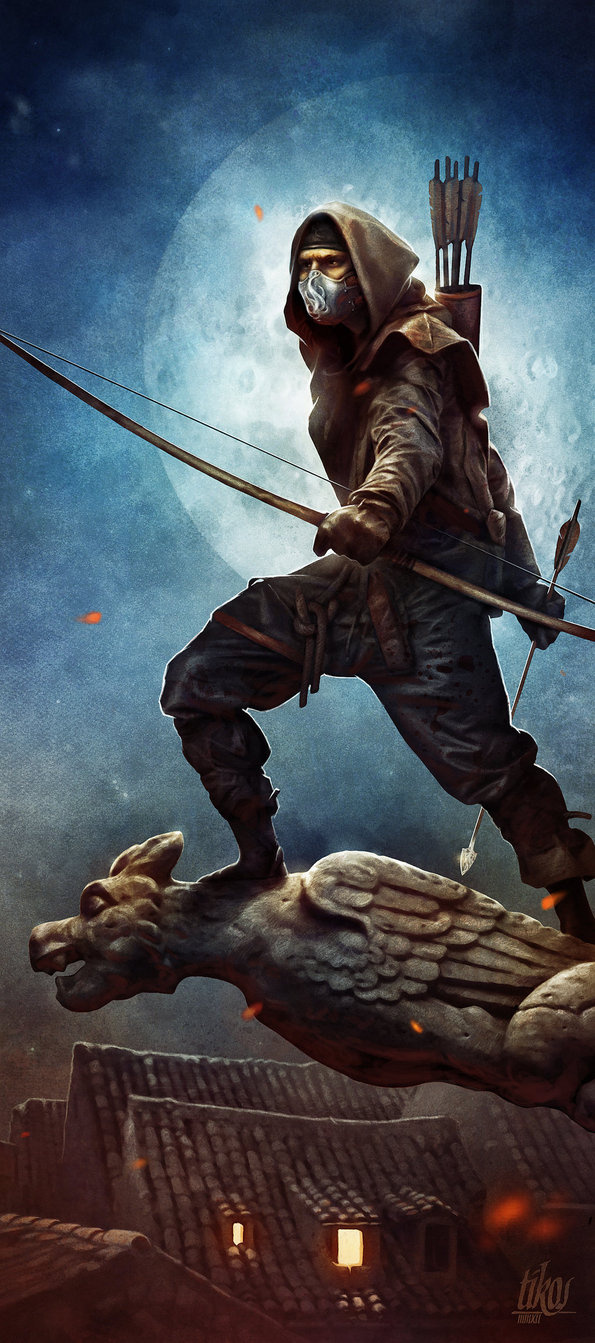 First Name - Kotoyo
Last Name – Kichida
Nickname – Koto
Gender – Male
Age – 21
DOB – Jan 14
Height – 5'11"
Weight – 155 lbs
Village – Kumogakure
Body Appearance
Hair Color – Dark Brown
Hair length - Short
Eye Color - Brown
Skin color - White
Body Shape – Thin and athletic
Tattoo's – None. Significant burns up his arms.
Other Information
Likes – Tea of all types, experimenting with tea, studying.
Dislikes – Sunagakure, Bandits
Parents – Kichida Keto (Father), Kichida Chiyoe (Mother)
Siblings – N/A
Children – N/A
Sexual Orientation – Heterosexual
Partner – N/A (again)
Ninja Information
Elements – Medical, Fuuton
Main Focus – Kenjutsu.
Sensei - Suzumi Kichida, Takeo Kichida
Squad – Raven Squad
Specialty – Nin/Ken (Ranged support)
Rank – Advanced Chuunin
Occupation - Academy Instructor
The Demon in Chains:

The Demon in Chains:
   The Demon in Chains

   Deep in the archives of Kumogakure, there is a book with the names of many of their greatest shinobi. Many of the Kichida find their way into this book, their names forever written into the history of Kumogakure, never to be forgotten. Among these names is one with a violent description written in his entry. It reads as follows:
   Kichida Tsunetomo
   "Coated in chains from head to toe, he fought off the most vicious foe. The Kyton of the Kichida clan, he was born as much more than just a man…"
   The description continues:
   "As Kumogakure went up in smoke, a lone man stood to bear down on the enemy. Chains of the Devil himself rise from this shinobi, ripping apart enemy after enemy. As the leader of the assault approached, the chains before us ripped apart scores of the enemy and dripped the blood of each of those men. As he reached the enemy leader, the shinobi's chains exploded into a blaze unlike any that we had seen before, a blue flame which sliced through all metal presented before it. When the fight began between this Kichida and the leader of the assault, the two became locked in the most violent battle that any of us had ever seen. As the two shinobi giants battled it out, the remainder of the Kichida rose from the ashes of the burning village, their bodies burned and battered, but their spirits unbroken. They rushed down the mountain and clashed with the army that lay before them, fighting outnumbered twenty to one at least. This spirit, this unwavering determination to win stirred the others in the village and all who could took arms against the besiegers. As we all fought, body parts began raining from the sky as the chains sent any who were stupid enough to interrupt their battle through the sky ripped to shreds. As the battle raged on, a bright flash of blue shot into the sky and the great Kyton flew into the air, the chains pouring from his back formed a devil's trap coated in fire around him. At each point massive chains crashed into the ground and all who were unlucky enough to be in the way. They weaved in and out of the ground, still coated in the blue flames, and tore apart the enemy. The screams. . . the screams were horrifying as men and women were pulled apart and burned by the chains. The leader was the last to go, standing alone on a battlefield of bodies, the shinobi of Kumogakure stood before the gates. The demon of chains lowered to the ground standing before the man. In an otherworldly voice, he spoke the word, "You come forth to attack our people, the people of the clouds and expect no resistance? You! You a but a pathetic man who thinks himself so great?!" The man before him began to cower in fear and the chains began to wrap around his legs, arms, and neck. "This was a foolish task, you have done nothing here, and your name will be stricken from the world. You shall no longer exist. I send you to wander this world nameless and faceless." With those words, he ripped each of the man's appendages and held his torso by the neck. The flames around the leader's neck burst into the blue flame, removing his face from his body, leaving no features and just skin. The sight was positively horrifying, this demon of the Kichida just removed a man's face, what happens next is much worse though. He re-attached the limbs through fire, backwards to the body and the faceless man began walking away, the skin where a face once was facing us. We have no idea where he went, or where he goes. . . or even how he exists, but we shall keep watch for it." - ANBU Report.

   Description: The chains themselves appear from the user's body, neither as a modified chakra, nor as a true physical weapon. They are simply a manifestation of the will of a beast, trapped deep within the body of a wielder. They are just as much a part of the body of the user as their arms or legs, meaning they act just as an advanced appendage of the user. The chains themselves are quite large, and appear from numerous different areas along the user. The most predominant chains will appear from the palms of the hands, the heel of the feet, and five points on the back in the shape of a five pointed star which faces downwards. The single point rests on the lowest point of the back along the spine; the other four are spread out evenly with the highest two just below the shoulders and the lowest pair just above the kidneys. Other chains do appear however, coming out of the body in random areas, coating it, and increasing the damage one can take. The chains move at accelerated rates, hitting much harder than normal, being controlled entirely by the user's mind. The power brought forth by the chains flows through the body quite freely, and improves all techniques that the user may use in their life, making the user a much more deadly opponent in battle.


   PvP: Katon Chakra applied to this burns a blue flame rather than a red one.
   +3 DR Hp – 45 tokens
   + 1d6 universal damage – 25
   + 1 Dr Pierce – 15
   Total Tokens (estimated): 85


[Kichida]
(150 Tokens)
In centuries past, when Kumogakure was just being formed, there were no major bloodlines, or ancient clans. There was only warriors, who fought for their Raikage. Each had different ancestry, ability, and affinity, but all of these warriors united under the flag of Kumogakure to defend its land and interests. Among these warriors, clear tiers of combat ability began to form, and the elite grew reticent about their heightened status. Soon their families began to breed and train exclusively to secure their dominance over the warrior society. Years later, the need for the army declined with the development of the shinobi caste and unique ability-wielding bloodlines. The Kichida Clan had past formed out of this heightened tier of warriors, and their pride and dedication to the mastery of the Warrior Way brought the clan to survive decades of changes around them. Today, the Kichida clan is on an uprising from the shambles that the previous clan head left it in. Instead of coveting their knowledge, the Kichida share much of it with the shinobi they work alongside. Despite their small remaining clan size, they are recognized as some of the best Kenjutsuists in all of the 5 Great Villages.
______________________________________________________________
[A Life of Weapons]
A Kichida spends their life in the practice of weaponry and their capabilities, as such, they are masters of combat and their own bodies. A Kichida generally focuses on one weapon exclusively, but has knowledge of all weapons.
Universal: Kichida have No Weapon Penalties (Including Dual Wield), When Buying their first custom weapon, it has a 25 Token Discount
Genin: +1 to DEX Rolls, Kenjutsu Pierce 2 DR, +1d4 to Kenjutsu Damage Rolls.
Chunin: +2 to DEX Rolls, Kenjutsu Pierce 3 DR, +1d6 to Kenjutsu Damage Rolls.
Jounin: +3 to DEX Rolls, Kenjutsu Pierce 4 DR, +1d8 to Kenjutsu Damage Rolls.
______________________________________________________________
[Conditioning Masters]
Kichida train on a daily basis, because of this training their bodies are highly conditioned for combat. Whether it is practicing with a variety of weapons, or just one, the Kichida learn to optimize the use of their body to the highest potential. A Kichida knows exactly how to use their bodies in regards to training with unfamiliar aspects, quickly adapting to new weapon styles.
Unversal: +2 to Kenjutsu Learning Rolls, +1 to Learning Rolls they teach Kenjutsu.
Genin: +2 DR vs HP, -1 Kenjutsu CP Costs, +10 HP
Chunin: +3 DR vs HP, -2 Kenjutsu CP Costs, +15 HP
Jounin: +4 DR vs HP, -3 Kenjutsu CP Costs, +20 HP
______________________________________________________________
[Clan Jutsu]
Any Kichida is capable of creating custom Kichida Hijutsu. Custom Jutsu created in this manner are created following the custom Jutsu chart and must be learned as per the Jutsu Gate Learning System. All Kichida are allowed to create 2x E - B Hijutsu and 1x A - S Hijutsu for free. Note: Clan Hijutsu can be taught outside of the clan, but only by the original creator of the technique (Unless stated otherwise.).
______________________________________________________________
[Enhanced Combat Lethality]
(Extra 50 Tokens)
Some Kichida expand their knowledge further in the sense that they learn they vital points in the human body, and learn to spot the weaknesses in an opponents defenses. This in turn increases their chances of dealing a fatal blow.
Universal: Small Weapons) Kichida Using Small Weapons follow Medium Weapon Chart (Including Dual Wield)
Universal: Medium Weapons) Kichida Using Medium Weapons follow large Weapon Chart (Medium Off Hand If Dual Wielding)
Genin: +1 DEX Rolls, No Crit Range Change on Kenjutsu
Chunin: +2 DEX Rolls, 19-20 Crit Range on Kenjutsu
Jounin: +3 DEX Rolls, 18-20 Crit Range on Kenjutsu
(Large Weapons - Large Weapon bonus is as per normal Weapon Rules.)
____________________________________________________________________________________
Item: Food, Water, and Weapon Scrolls (No Token Cost)
RP only: These scrolls carried by Kotoyo carry with him food, water, and his weapons.  The idea behind them being that a shinobi can only carry so much in their packs, and being able to seal some of their heavier equipment into something small that they can carry with them at all times is a great help to them. It's a technique and item that can be learned by any shinobi, no matter the rank, and held by them as well.
Special Note: Lakes of water cannot be held in this. At best, several canteens can be brought out.
___________________________________________________________________________________________
Tatsu no Yumi (The Dragon Bow)
This bow was created from the ribs of a mountain dragon, making it a naturally more powerful and lighter bow. The grip of the bow is coated with a nice wrapping and was made from a smaller rib from the rib cage, just big enough for a hand to wrap around comfortably, and it is coated in black linen wrapping to match Kotoyo's particular taste in bows. There are small notches at either end of the body of the bow for the bowstring to rest in perfectly. Even with the fact that this is a bow of bone, however, it seems to bend rather easily, but is next to impossible to break, allowing for Kotoyo to pull out even more destructive shots. The bow has a relatively ornate design to it which took quite an extensive amount of time for Kotoyo to carve into the bone. These designs tell a story, that even he does not know, as they originate from many of the designs he's seen in his nightmares at night. Due to either the supernatural origins of the materials – coming directly from a Dragon – or the markings along the bow, it has taken on a few properties that make it even more destructive than before. Shots on targets with any form of chakra end up taking a bit of damage to their chakra pools, and a portion of that damage is brought absorbed back into the bow.
+1d8 to Kenjutsu HP DMG
Deals Medium Single Wield Weapon DMG. On hit, base weapon damage does 1/2 hp and 1/2 cp damage. CP DMG is then returned to the user's CP Pool. (Burst Cap Cp Regen Maximum)
-Paid for. Overseen by DM Kisame (4/4/2015 9:43pm Central)
___________________________________________________________________________________________
[Ninjutsu Specialist]
A shinobi who has focused all their time and energy into the masters of Ninjutsu, they are specialists many Aburame and Ninjtusu focused clans use this form of combat and training. Most Ninjutsuist spend so much time focusing in this, that their other fighting styles suffer. But their strength with Ninjutsu makes up for it.
Universal: Ninjutsu pierce 1 DR and heal user for 1 HP (Only if DR is pierced), +5 to Learning Ninjutsu, Those they teach Ninjutsu get +3 to rolls.
Genin: +1 Ninjutsu Rolls, -1 CP to Ninjutsu (Min 1), +10 CP, +1d4 Ninjutsu Damage
Chunin: +2 Ninjutsu Rolls, -2 CP to Ninjutsu (Min 1), +15 CP, +1d6 Ninjutsu Damage
Jounin: +3 Ninjutsu Rolls, -3 CP to Ninjutsu (Min 1), +20 CP, +1d8 Ninjutsu Damage
___________________________________________________________________________________________
Kotoyo's Back Story:
He comes from a very basic lifestyle in Kumo, despite being a Kichida. There was never anything typically astounding or even noteworthy besides the hunting he and his father would do. This is part of the reason why Kotoyo has decided that becoming a Medical Shinobi is the way to go, not only because of this lack of excitement in his life, but also because of how much he cares for those around him since he was very young. Many times when Kotoyo went out with his father hunting, he would find small wounded animals in the woods to take care of rather than eat. It is through the nurturing of these animals that he began to love helping others. From his mother he learned basic home remedies to help with everyday ailments and cuts, however he wanted to expand his knowledge significantly, both with his trusty bow and in medicine. This is why he sought out Suzumi to be his sensei and continues to search for a medical sensei, so that one day he may use his talents to aid his friends in the many adventures they will have.
Last edited by DM Iruka on Tue Dec 20, 2016 7:03 pm; edited 1 time in total
Purchases
Kichida (Clan) 100 Tokens
Kichida: Easy to Master 25 tokens
Kichida: Enhanced Combat Lethality 75 tokens
+2 Base Wis Stat (+1 mod) 30 tokens -Sasori
+2 Base Wis Stat (+1 Mod) 30 tokens - Sasori (2/14/2015)
+1 Base Wis Stat (+1 mod) 10 tokens - DM Killer Bee
+3 Base Wis Stat (+2 mod) 45 tokens - DM Hinata
+4 Base Wis Stat (+2 mod) 60 tokens - Sasori
+2 Base Dex Stat (+1 mod) 20 tokens - Konohamaru
+2 Base Con Stat (+1 mod) 10 tokens - DM Kisame (4/4/2015 9:43 pm central)
+1 Base Int Stat (+1 mod) 5 tokens - DM Kisame (4/4/2015 9:43 pm central)
The Demon in Chains (Ability) 85 tokens -Sasori
Dragon Bow (Weapon) 75 tokens (25 discount Kichida clan) - DM Kisame (4/4/2015 9:43 pm central)


__________________________________________________________________



Totals
Ability Cap: 285/700
Weapon Caps: 75/500
Stats/Etc:230
Total spent: 570 Tokens


Clan Techniques:

E-Rank
Chakra Projectile Technique
Jutsu Type: NinKenjutsu
Rank: E
Chakra Cost: 2 CP
RP Description: An arrow of either elemental or non-elemental chakra is formed and fired at the target. It follows the same rules as a basic arrow, but as chakra. The chakra takes on the appearance of the projectile in question (arrow, bolt, stone, javelin, etc.)
PvP Effect: User gains +1 to Bow Jutsu for the rest of the fight.
Special Note: Allows the user to use projectile specific techniques with Dex/Wis.
Teaching/Learning: D-Rank

E-Rank
A Piece of Me
Jutsu Type: Nin/Ken
Rank E
Chakra Cost: ~
RP Description: Kotoyo gives a literal piece of himself to a person, a link of the chains that he holds so dear. These chain links are still under his control however, meaning he has knowledge of their exact location at all times no matter how far away they are. It acts as a beacon so that Kotoyo can find them and come to them whenever they really need him most. As the chains interact with emotions and amplify them, Kotoyo knows the exact emotion that the holder is feeling.
PvP: Can track those that have a Chain from 3 areas away. If the chain wielder does not wish to be hunted, they can say so.
Special Note: For each "chain link" the user receives a permanent -5 to their HP / CP pool (Users Choose) until they recover the link.


D-Rank
Chain Guardian
Jutsu Type: Kenjutsu
Rank: D
Chakra Cost: 3
RP Description: The user whips chains out towards an enemy or towards an ally wrap around them, dealing damage, or pulling them out of harms way respectively.
PvP Effect: Weapon Damage +2
Special Note: Can be used to defend another without using up the users turn. If used this way, it does not deal damage.
Teaching/Learning: D-Rank

Chain Substitution
Jutsu Type: Nin/Ken
Rank: D
Chakra Cost: 3 CP
RP Description: Kotoyo substitutes leaving behind an after image of himself in a pile of his chains. Upon struck with a Taijutsu/Kenjutsu they latch onto the opponent.
PvP: DEX/WIS Substitution) If dodging Taijutsu / Kenjutsu / Close Range Ninjutsu, Attacker suffers -1 to ATK/DEF for1 round.
Learning Gate: D-rank


C-rank
C-Rank
Elemental Infusion
Jutsu Type: Elemental Kenjutsu
Rank:
Chakra Cost: 3 (+ Specific cost of element)
RP Description: The user infuses their weapon with an element, giving the weapon properties of that specific element.
PvP Effect: Each element does a different effect, described here.
Katon: 2 CP Per round) Does burning damage for 1d4 rounds for 1d6 damage per turn. (Target can use turn to put out fire.)
Raiton: 3 CP) Free Action - Boosts critical hit range by one point for the round.
Suiton: 2 CP ) Target suffers -2 to DEX rolls for 1d4 rounds (Rounds stack, Negatives don't)
Fuuton: 2 CP Per round) Gives a bonus of +2 to ATK Rolls. Next single target attack gains +1d6 Damage
Doton: 3 CP) User gains +2 to DEF roll. If DEF roll fails, User rolls con and gains 1/4 of CON roll as HP DR.
Medical: 3 CP) Heals an ally for 3d6+2 HP. (User must know Angel's Touch)
Special note: User must have Elemental Affinity to use the elemental effect. Can be used with -ANY- weapon. Upon activation, may use other techniques with the additional cp cost of the element in use.
Note: Only 1 elemental effect may be used at a single time.
Teaching/Learning: C-Rank

Enhanced Elemental Infusion
Jutsu Type: Nin/Ken
Rank C
Chakra Cost: 3 CP
RP Description: A much more heavily influential version of the Elemental Infusion technique, this brings a duration to the infusion as well as allowing for Advanced Chakra Natures to be included into the mix.
Pvp: Free Action*)Adds 1d4+1 rounds to the duration of the original elemental infusion
Special Note: * Can only be used with Elemental Infusion
Special Note 2: Can add one's ACN to the list of elemental infusions. Must be approved by DM team and re-learned at an A rank jutsu.
Learning Gates: C-rank


B-Rank
The Way of the Hunter
Jutsu Type: Kenjutsu
Rank: B
Chakra Cost: 7
RP Description: The user attacks from a hidden location, silently striking the target with careful precision. It hits as the first shot of the battle, causing unexpected damage to the target.
PvP Effect: User gains + 20 to Sneak / Move Silently roll prior to using Jutsu. If user's attack is successful, The damage from this attack is doubled (Cannot Critical Hit)
Special Note: Must be Hidden to perform this technique.
Special Note 2: Any attack can be used with Way of the Hunter. This is done by adding the original CP Cost of the Technique to The Way of the Hunter's CP Cost.
Teaching/Learning: B-Rank (Overseen by Auranos)

Chain Art: Field of Chains
Jutsu Type: Nin/Ken
Rank: B
Chakra Cost: 7 CP + 1 Per Round Maintined
RP Description: Chains spread across the ground from Kotoyo's feet, coating almost the entire ground with chains which branch out in all directions. Their pattern takes on the form of a tree roots, yet they grow much greater in scale. Kotoyo is able to move along these chains by simply melting his body into them, allowing him to move much faster in the combat area.
Pvp: User gains +2 to ATK/DEF Rolls
Special Note: May be ended when user chooses.
Learning Gates: B-rank


A-Rank
Rain of Arrows
Jutsu Type: NinKenjutsu
Rank: A
Chakra Cost: 10
RP Description: The user fires a single arrow of chakra directly into the sky which then multiplies exponentially while in the air, blotting out the sun momentarily. These arrows then fall down onto all enemy targets within the area unable to be dodged due to the vast number of arrows raining down from the sky. This technique can be performed by multiple shinobi, causing the sky to go black from the sheer number of arrows being launched at the target(s).
PvP Effect: Undodgeable, AoE, (Allies included - Unless in Melee range of user) Weapon Damage + 3d6. (Allies take 1/2 damage, and must also roll in defence.)
Note: Other bow users (If they know the jutsu) May sacrifice their turn, and pay 1/2 the jutsu CP cost to add an additional 3d6 damage and + 2 to the attack roll.
Teaching/Learning: A-Rank (Overseen by Takeo)


S-Rank
S-Rank
Kyudo Mastery
Jutsu Type: Kenjutsu
Rank: S
Chakra Cost: 20
RP Descripton: Kyudo is the Way of the Bow, and requires years of practice. Kyudo practices overdraw of the Yumi bow, and the only style to do so in such a successful manner. The body stands straight in perfect posture, the bow is drawn starting from overhead, and is pulled to Kai (full drawn) from that position. During this, the master (Kyudoka) dumps chakra into the drawing of the bow, infusing it with a chosen elemental infusion. The arrow is then released and sent hurling into the target, leaving a trail of destruction in its wake. When the arrow makes contact, it explodes with a bright blast knocking the enemy either up or back and deals a large amount of damage to all characters within a small range of the target.
PvP Effect: Weapon Damage + 1d10 + 3d6 + 2d4 Small AoE (Melee range of the target)
Special Note: Unblockable
Teaching/Learning: S-Rank
Kichida Clan Techniques:



Focus
Jutsu Type: Kenjutsu Stance
Rank: E
CP Cost: 2
RP Description: The user devotes chakra to their minds, enhancing their senses to a point of tunnel vision. The rest of the world begins to fade around them, and the only thing they see with clarity is their opponent.
PVP Effect: +1 to attack/defense rolls against a single designated opponent, -1 to attack/defense rolls against all other opponents. Lasts the duration of the fight.
Note: May be deactivated
Teaching/Learning: Gate System – E Rank (Taught by Takeo, the only person who can teach it)

Phantom Blade
Jutsu Type: Kenjutsu
Rank: D
Chakra Cost: 4
RP Description: The user uses a chakra a means to make what would normally be impossible course correction in a swing. This correction often gives the illusion of multiple blades.
PvP Effect: Unblockable
Teaching/Learning: Gate System - B Rank
NOTE: Can be added to other Kenjutsu attack techniques buy paying the techniques standard cost +4
NOTE: Cannot be added to something that is undodgeable. (Taught by Suzumi)

Elemental Marking
Jutsu Type: Kenjutsu
Rank: C
Chakra Cost: 5
RP Description: Aoi marks the target with her element after hitting them with a Elemental Kenjutsu attack causing future attacks against that target to be inflicted with some ailment depending on the Element they are hit with.
PvP Effect: Free Action - Must be announced BEFORE the ATK Roll is made) Aoioki Marks the target with the chosen element for 1d4+1 rounds. User and Allies gain bonuses according to the element the target was marked with.
Katon: Adds 1d8+1 damage to the attack
Raiton: If they roll a Natural 15-20, Target is stunned for 1 round (Or until hit)
Suiton: Target suffers -2 to DEF Rolls
Fuuton: User and Allies get +2 to ATK rolls vs Target
Doton: Target suffers -2 to ATK Rolls
Special note: User must have Elemental Affinity to use the elemental effect. Can be used with -ANY- weapon. Upon activation, may use other techniques with the additional cp cost of the element in use.
Note: Only 1 elemental effect may be used at a single time.
Teaching/Learning: Gate System – C (Aoioki Kichida)
Medical:

E Rank Jutsu

Dress wound (C/NC)
Type: Ninjutsu
Rank: E
Chakra Cost: 2
RP Description: The most simple of medical jutsu learned at the start of becoming a medical shinobi.
PVP Effect: Heals target for 1d4 HP, may be used in battle.
Teaching/Learning: Gate System - E Rank (Taught by Mitsuko)

Examine Injury (C/NC)
Type: Ninjutsu
Rank: E
Chakra Cost: 2
RP Description: A technique used by all Medical nin. The medic can quickly diagnose basic injuries, and formulate the best way to maximize their healing through intensive medical knowledge.
PVP Effect: Adds 2+1/10th Heal Roll (Max 10) HP to next healing Technique.
Special Note: Allows for the character to roll Heal to diagnose an injury in player/DM events.
Teaching/Learning: Gate System - E Rank (Taught by Mitsuko/DM Sai)

D Rank Jutsu

Control Bleeding (C)
Type: Ninjutsu
Rank: D
Chakra Cost: 3
RP Description: Using basic knowledge of anatomy the medical shinobi is able to apply pressure to a wound and stop it from bleeding.
PVP Effect: User may roll WIS Vs Original Attack Roll-2 to remove Damage over Time effects.
Teaching/Learning: Gate System - D Rank (taught by Mitsuko)

Remove Poison Technique (C/NC)
Type: Ninjutsu
Rank: D
Chakra Cost: 3
RP Description: Removes poison from a victim who has been hit with a lingering toxin.
PVP Effect: Removes poison from the target, For every Rank above E the poison is this Jutsu costs 2 more CP then Usual.
Teaching/Learning: Gate System - D Rank (taught by Mitsuko)

Healing Jutsu Minor (C)
Type: Ninjutsu
Rank: D
Chakra Cost: 3
RP Description: A basic medical ninjutsu that, by focusing a small burst of Medical infusion, heals cuts, scratches and bruises with ease.
PVP Effect: 1d10 Damage healed to a target
Teaching/Learning: Gate System - D Rank (taught by Mitsuko)

C Rank Jutsu

Mystical Palm Technique (C/NC)
Jutsu Type: Ninjutsu
Rank: C
Chakra Cost: 3/Round
RP Description: One of the most popular techniques within the Medical world, this technique makes use of the user's medical chakra by both allowing the cells to regenerate, but also manually patching up the more major injuries.
PVP Effect: Requires at least two rounds of use, to a maximum of 4 rounds of use. Target is healed for 3d4+4 HP damage per round, but healing takes up the turn of both the user and the target.
Special Note: If the target or the user is attacked, this technique is canceled. However, if an ally chooses to defend for them, the technique continues.
Teaching/Learning: Gate System- C Rank

Angels Touch (C)
Jutsu Type: Ninjutsu
Rank: C
Cp: 5
Description: Used only in battle the medical shinobi focus' their chakra and much like chakra burst expels a small portion of their healing chakra to allies.
PvP Effect: 1d6+2 heal up to 2 targets, or 1d4+1 up to 3 targets
Special Note: If healing three targets CP cost is raised to 8 instead of 5.
Special Note 2: This technique cannot heal the user, only an ally.
Teaching/Learning: Gate System- C Rank (Mitsuko)

Healing Jutsu Light (C)
Jutsu Type: Ninjutsu
Rank: C
Chakra Cost: 5
RP Description: A Moderate Medical jutsu. A widely jutsu among all medical shinobi who are in the field of combat. The medic concentrates a large amount of chakra into their palm, and releases it into the subject's wound. This acts as a healing agent, and immediately relieves the target the specific injury.
PVP Effect: Heals 3d4 to a target.
Teaching/Learning: Gate System- C Rank (Kujira)

Precision Anatomy Strike (C)
Jutsu Type: Ninjutsu
Chakra Cost: 5
RP Description: Through intensive research on the effects of Chakra through the human body, the medical shinobi concentrates a small amount of infused Medical chakra into the user's hand, and taps it lightly against one of the opponent's large nerve clusters. This makes it extremely difficult to use the targeted muscle, especially in combat. This technique follows the same basic premise as the Mystical Palm Technique, however, is a more directly offensive form.
PVP Effect: Dex/STR to hit, on Hit Opponent suffers -2 to Attack/Defense Rolls for 1d4+1 Rounds.
Special Note: On crit, the duration is doubled.
Teaching/Learning: Gate System- C Rank (Takeo)

Herbal Extract Mix (C/NC)
Jutsu Type: Ninjutsu
Rank: C
Chakra Cost: 5
RP Description: A mixture of secret herbal extracts. Depending on the mixture used can either heal a wound quicker or poison those unlucky to get caught. Usually stored in small vials for ease of use.
PVP Effect: 2d8 HP damage healed, however, uses one Senbon per use.
Teaching/Learning: Gate System- C Rank (Kouyou)

Deeping Wound (C)
Jutsu Type: Ninjutsu
Rank: C
Cp: 5
Description: Used only in combat, this allows the medical shinobi to use their chakra to further deepen an existing wound on a target.
PvP Effect: Target must already be Injured. 1d6 Damage for 1d4 Rounds
Teaching/Learning: Gate System- C Rank (Aonu)
Academy:

Wall/Tree Walking
Jutsu Type: Ninjutsu
Rank: E
Chakra Cost: 1
RP Description: The user covers their feet with at thin layer of chakra, which acts as a stick substance to allow them to walk up solid surfaces
PVP Effect: Rolepaly Jutsu Only.
Teaching/Learning: Gate System - E Rank (Taught by Suzumi)

Water Walking
Jutsu Type: Ninjutsu
Rank: E
Chakra Cost: 1
RP Description: The user covers their feet with a thin layer of chakra, which acts as a solid surface to allow them to walk on water
PVP Effect: Rolepaly Jutsu Only.
Teaching/Learning: Gate System - E Rank (Taught by Suzumi)

Rope Escape Technique
Jutsu Type: Ninjutsu
Rank: E
Chakra Cost: 2
RP Description: This jutsu is a simple technique, which can be several different ways. It's taught to all Academy students on how to break out of anything that is keeping them tied up
PVP Effect: This jutsu is used without hand seals. It is the simple concentration of chakra to rippple around the body in effort to release yourself from ninja wire and other such bindings. WIS is rolled vs the attacker's initial Roll. In the event of Set trap skill being used in combat the user must roll the appropriate skill other wise Break DC is decided by active DM.
Teaching/Learning: Gate System - E Rank (Taught by Suzumi)

Cloak of Invisibility Technique
Jutsu Type: Genjutsu
Rank: E
Chakra Cost: 1 (+1 per round maintained)
RP Description: A basic technique all Academy Students learn. Taking a simple piece of fabric, they can channel; a small amount of chakra into the fabric and change the fibers to the same as their surroundings
PVP Effect: +5 Hide Roll
Teaching/Learning: Gate System - E Rank (Taught by Suzumi)

Clone Technique
Jutsu Type: Ninjutsu
Rank: E
Chakra Cost: 4 + 2 per round maintained
RP Description: The ability to create a basic clone of themselves. Unlike other types of clones, these clones are not solid clones, so they cannot do any damage or attack the Enemy
PvP Effect: As long as the bunshin is maintained when being attacked the attacker must roll 1d6. On a 1-3 the bunshin is attacked, on a 4-6 the real target is attacked.
Teaching/Learning: Gate System - E Rank (Taught by Suzumi)

Henge Technique
Jutsu Type: Ninjutsu
Rank: E
Chakra Cost: 2 +1 per round it remains active
RP Description: This jutsu is a simple one, that changes the users body into one of which they choose
PVP Effect: +5 Hide (Disguise)
Special Note: Must learn before becoming Genin (Rolled with WIS)
Special Note: Doesnt Stack with any Hide bonuses that are not specifically noted for disguising.
Teaching/Learning: Gate System - E Rank (Taught by Suzumi)

Substitution Technique
Jutsu Type: Ninjutsu
Rank: E
Chakra Cost: 3
RP Description: A simple technique all Shinobi need to learn. It is simple replacing their body with a nearby object in place of an incoming attack
PVP Effect: Wisdom based Dodge
Teaching/Learning: Gate System - E Rank (Taught by Suzumi)

Kai
Jutsu Type: Ninjutsu
Rank: E
Chakra Cost: 2
RP Description: This jutsu is a simple two handed seal and then you focus your chakra to try and break off a genjutsu. This can also be used to harmlessly break a genjutsu's effect off another target.
PVP Effect: This jutsu is used without hand seals. It is the simple concentration of chakra to rippple around the body in effort to release yourself from genjutsu and other "stuns". WIS is rolled vs the attacker's initial Roll.
Teaching/Learning: Gate System - E Rank (Taught by Suzumi)
Taijutsu:

Chakra Focused Punch
Jutsu Type: Taijutsu
Rank: D
Chakra Cost: 2
RP Description: The user layers their fist with strengthened chakra, in order to increase their punching power
PVP Effect: Rank Damage + 1d4
Special Note:
Teaching/Learning: Gate System – D Rank (Taught by Aoioki)

Swift Kick
Jutsu Type: Taijutsu
Rank: D
Chakra Cost: 2
RP Description: The user layers their shin with sharpened chakra, in order to increase both kicking power, allowing it to pierce some defenses.
PVP Effect: Rank Damage + Pierces 1 DR
Special Note:
Teaching/Learning: Gate System – D Rank (Taught by Takeo)

Leaf Whirlwind
Jutsu Type: Taijutsu
Rank: D
Chakra Cost: 2
RP Description: The user focuses their chakra to increase their speed while twisting making it harder to hit the user, or can utilized for a basic attack doing an enhanced round house kick.
PVP Effect: Regular Damage + 2 Damage
Special Note: Can be used to block dealing 1d4 damage
Teaching/Learning: Gate System – D Rank (Taught by Takeo)

C-rank

Leaf Rising Wind
Jutsu Type: Taijutsu
Rank: C
Chakra Cost: 4
RP Description: The user focuses enough chakra into their kick, that when they kick the opponents jaw they go flying into the air.
PVP Effect: Rank Damage + 1d4/2 (Min. 1) + One Round Stun
Special Note: Due to the difficulty of learning this technique, It is learned as B rank rather than C rank.
Teaching/Learning: Gate System – B Rank (Taught by Masatsuki Shindou)
Kenjutsu:

E-rank

Chakra Dageki (Chakra Strike)
Jutsu Type: Kenjutsu
RP Description: By channeling a small amount of chakra into their weapon the user is able to hit more effectively.
CP Cost: 1
PVP: +1 damage
Note: This is required in order to learn other Kenjutsu
Teaching/Learning: Gate System – E Rank (Taught by Suzumi)


D-Rank

Hardened Steel
Jutsu Type: Kenjutsu
Rank: D
Chakra Cost: 3cp
RP Description: Drawing a small amount of chakra into one's blade the steel or material used to make the blade hardens to the day it once was perfect, causing one's slash to be a lot sharper and effective.
PvP Effect: +2 Damage
Special Note: Adds 1 DR Pierce
Teaching/Learning: Gate System – D Rank (Taught by Suzumi)

Reverse Strike
Jutsu Type: Kenjutsu
RP Description: After feinting an attack, the user grips the weapon in reverse and strikes their opponent from the other side.
CP Cost: 3
PVP: +1 to attack roll
Teaching/Learning: Gate System – D Rank (Taught by Takeo)

Preparing Stance
Jutsu Type: Kenjutsu
Rank: D
Chakra Cost: 2
RP Description: The user slides into a stance in preparation for their next
attack to increase the effectiveness of it.
PvP Effect: -5 Chakra Cost for the Next Round (Must be a Kenjutsu move)
Teaching/Learning: Gate System – D Rank (Taugh by Suzumi)

Lazy Man's hand
Jutsu Type: Kenjutsu (Iaijutsu)
RP Description: As the enemy approaches, the user remains calm, their hand resting on the hilt of their sword. When the enemy comes into range, the user would draw their weapon and slash the enemy in a single fluid motion.
CP Cost: 3
PVP: Block. 1d4 Damage to attacker.
Note: Cannot be used to Defend Genjutsu.
Teaching/Learning: Gate System – D Rank (Taught by Takeo)


C-Rank

Cross Slash
Jutsu Type: Kenjutsu
Rank: C
Chakra Cost: 4
RP Description: Focusing a small amount of chakra the user rushes towards the opponent and sends an 'X' like slash at the opponent.
PvP Effect: Weapon Damage + 1d6 Damage
Teaching/Learning: Gate System – C Rank (Taught by Takeo)

Shadowing Block
Jutsu Type: Kenjutsu
Rank: C
Chakra Cost: 4
RP Description: Focusing a small amount of chakra the user draws their blade quickly too an oncoming close-quarters attack, they would then turn their blade to the nearest light source, creating a shadow over their blade that would distract the opponent, give them an open opportunity to allow for a better defence.
PvP Effect: +2 to block/parry
Special Note: Cannot be used against Ninjutsu or Genjutsu
Teaching/Learning: Gate System – C Rank (DM Konohamaru)

B-rank

Shoki Art – Act one
Jutsu Type: Kenjutsu
RP Description: The Shoki art is an extremely rare one, and requires the utmost concentration. Act one consists of intense focus of the mind. The user focuses chakra throughout their body as they enter a state of Zen. Chakra would visibly flow down the length of their weapon, taking on a bright color.
CP Cost: 7
PVP: The user has a +3 to their next attack, both attack roll and dmg
Gate/Learning: B Rank Gate System (Taught by Suzumi)

A-rank

Acupuncture
Jutsu Type: Kenjutsu
RP Description: Using their medical knowledge, the user of this technique aims their attack at one of the opponent's pressure points.
CP Cost: 10
PVP: Kenjutsu Damage +1d4 +1, and the target if hit suffers a + 1 Round Physical stun.
Note: Requires a Heal Modifier of 40 to learn
Teaching/Learning: Gate System – A (Taught by Takeo Kichida)

Shoki Art – Act Two
Jutsu Type: Kenjutsu
RP Description: While the user is in a Zen state of mind, they further their focus by blocking out everything other then themselves, while building up more chakra throughout their body and weapon. The chakra becomes so immense that it literally overflows visibly.
CP Cost: 10
PVP: Lasts for 1 attack. The user gains a +4 attack roll, a +1d8 damage roll and 5 DR.
Note: Can only be used directly after Act 1. Act 1 must first be learnt.
Teaching/Learning: Gate System – A (Taught by Suzumi)
Elementless:

Chakra Concentration
Jutsu Type: Ninjutsu
Rank: D
Chakra Cost: 3
RP Description: The user channels their whole chakra network, and increases the speed. Allowing them to use less Chakra when using jutsu
PVP Effect: -1d4+1 CP used on Jutsu for 1d4 rounds
Teaching/Learning: Gate System - D Rank (Taught by Tsurugi)

C Rank

Chakra Concentration: Core
Jutsu Type: Ninjutsu
Rank: C
Cp Cost: 5
RP Description: The user channels their chakra, focusing it to their Hands, Fingers and mouth to increase the strength and quickness of their ninjutsu
PVP Effect: +1d4 to WIS rolls for 1d4 rounds
Special Note:
Teaching/Learning: Gate System - C Rank (Taught by Tsurugi)

Chakra Concentration: Legs
Jutsu Type: Ninjutsu
Rank: C
Chakra Cost: 5
RP Description: The user focuses their chakra into their legs, giving them greater speed and dexterity for a certain amount of time
PVP Effect: +1d4 to DEX rolls for 1d4 rounds
Teaching/Learning: Gate System - C Rank (Taught by Aoioki)

Ninpou: Acid Spit
Jutsu Type: Ninjutsu
Rank: C
Chakra Cost: 5
RP Description: The user uses their chakra to spit an acidic liquid on the target, burning them and eating their skin
PVP Effect: 2d8 damage to the target
Teaching/Learning: Gate System - C Rank (Taught by Kujira)

Chakra Absorption Technique
Jutsu Type: Ninjutsu
Rank: C
Chakra Cost: 5
RP Description: The users hand glows blue, as a beam of chakra hits a single target. The beam drains some of the Targets Chakra and replenishes your own
PvP Effect: Drains 2d6 cp from your target, and returns it to your own CP Pool
Special Note: May be used twice per battle only
Teaching/Learning: Gate System - C Rank

B-Rank

Chakra Concentration: Master's Core
Rank: B
CP Cost: 8
RP Description: The shinobi uses their knowledge over chakra to maximize their usage of it, flying through hand signs, control ,and greatly increasing their ability to utilize their jutsu
PVP Effect: +1d6 to WIS / CHA rolls for 1d6 rounds
Special Note: Must Know - Chakra Concentration: Core
Teaching/Learning: Gate System - B Rank (Overseen by DM Voodoo)

Fuuton:

Rank E

Fuuton: Minor Gust
Jutsu Type: Ninjutsu
Rank: E
Chakra Cost: 2
RP Description: With a few basic hand signs the user blows a short gust of wind at an opponent
PvP Effect: 1d4 damage
Special Note: Hijutsu offered to all wind element academy students of every village (Overseen by Aoioki)

Fuuton: Gentle Breeze
Jutsu Type: Ninjutsu
Rank: E
Chakra Cost: 2
RP Description: The user performs a ram hand seal and blows a soft burst of wind
PvP Effect: 2 Damage to 1d4 Targets
Special Note: Hijutsu offered to all wind element academy students of every village (Overseen by Aoioki)

Rank D

Fuuton: Wind Bullet no Jutsu
Jutsu Type: Ninjutsu
Rank: D
Chakra Cost: 3
RP Description: Fires a small burst of wind at the target in a condensed ball form
PvP Effect: 1d10 Damage
Teaching/Learning: Gate System - D Rank (Overseen by Kujira)

Fuuton: Wind Blast
Jutsu Type: Ninjutsu
Rank: D
Chakra Cost: 3
RP Description: Breaths out a gust of wind at the target
PvP Effect: 2d4 Damage
Special Note: 1 DR Peirces
Teaching/Learning: Gate System - D Rank (Overseen by Kujira)

Fuuton: Sudden Gust of Wind
Jutsu Type: Ninjutsu
Rank: D
Chakra Cost: 3
RP Description: Sends a gust of wind blasting the target backwards
PvP Effect: 1d4 Damage.
Special Note: On-Hit Target is Unable to Attack on their next Turn.
Teaching/Learning: Gate System - D Rank (Overseen by Kujira)

Fuuton: Wind Scythe Technique
Jutsu Type: Ninjutsu
Rank: D
Chakra Cost: 3
RP Description: This basic Fuuton technique sends Chakra through the air in a straight line. It reaches out
to Close range (up to a maximum of 30 feet)
PvP Effect: 1d8+1 Damage.
Teaching/Learning: Gate System - D Rank (Overseen by Suzumi & Takeo Kichida)

Fuuton: Cyclone Kick
Jutsu Type: Taijutsu
Rank: D
Chakra Cost: 3
RP Description: Flipping onto their hands the user channels wind chakra into their feet and begins a rapid spin
PvP Effect: Rank damage + 1d4
Special Note: Can be used to block, when used to block the technique does 1 damage
Teaching/Learning: Gate System - D Rank (Overseen by Aoioki)

C-Rank

Fuuton: Spiraling Blast
Jutsu Type: Ninjutsu
Rank: C
Chakra Cost: 5
RP Description: The shinobi forms the required hand seals (10) then focuses their chakra in their lungs. Inhaling deeply, the shinobi holds the air in their lungs, while the chakra amplifies it. Placing one hand on their chest, and the other to cup their lips, he exhales sharply, expelling a large blast of wind in a cone effect. If a Shinobi is near the caster of the Jutsu, and in the Jutsu' path, they will find it difficult to breath due to the massive gusts of wind. Prolonged exposure of this up-close effect can be lethal, causing death due to suffocation. The field is weakest at the outer edges, roughly around 15m or farther away
PvP Effect: 3d4 Damage
Special Note: Bypasses DR
Teaching/Learning: Gate System - C Rank (DM Kisame)

Fuuton: Whirlwind Prison
Jutsu Type: Ninjutsu
Rank: C
Chakra Cost: 5+ 3 for each round maintained
RP Description: This is more of an immobilization Jutsu. The shinobi creates the required hand-seals (9), then releases their Jutsu. The only way for this Jutsu to be effective, is for the shinobi to be within melee range of their jutsu to work. The Shinobi releases a large blast of wind from their palms, creating a cyclone around the target. If the target tries to break free from the Whirlwind, the eye of it becomes much more violent, sucking oxygen from the center. This Jutsu can be doubled over as a lethal form. The shinobi has the ability to completely remove the oxygen from the center, either knocking the target unconscious, or killing them via suffocation. This Jutsu requires a substantial amount of chakra to use, and large amounts of chakra to maintain for more than three minutes
PvP Effect: Physical Stun for 1d6 Rounds
Special Note: Unblockable, Target can escape if they beat a WIS roll against the users original WIS roll.
Teaching/Learning: Gate System - C Rank (DM Konohamaru)

Fuuton: Flight
Jutsu Type: Ninjutsu
Rank: C
Chakra Cost: 5+2 per round
RP Description: Utilizing their nature affinity the user is able to create a loop of chakra induced wind, this loop allows them to maneuver in the air at will, otherwise fly
PvP Effect: Grants +3 to Dexterity Rolls, Lasts 1d4+1 Rounds.
Special Note: Because of the concentration required to maintain the loop no other ninjutsu, genjutsu or taijutsu may be used while maintained. Not even substitution.
Teaching/Learning: Gate System - C Rank (Overseen by Suzumi)

---
Permissions in this forum:
You
cannot
reply to topics in this forum